Swagelok Bangalore Is Your Local Swagelok Sales and Service Center.
Swagelok in India is serviced primarily by two Authorized Sales and Services Centers; Swagelok Bangalore and Swagelok Bombay. Swagelok Bangalore (Bangalore Fluid System Components Pvt. Ltd.) covers customers in South India, North India and Sri Lanka. Headquartered in Bangalore our offices spread across the region including Chennai, Gurgaon and Hyderabad. In addition, we have resident engineers based in Coimbatore, Derhadun, Lucknow, Ludhiana, Trivandrum and Visakhapatnam.
We provide our customers with the highest quality Swagelok products in India such as Swagelok Fittings (Tube Fittings and Adapters, VCO, VCR, Weld Fittings, PFA Fittings, Pipe Fittings), Swagelok Valves (Ball Valves, Check Valves, Pressure Relief Valves, Needle Valves, Plug Valve, Metering Valves, other Instrument Valves), Hoses, Pressure Regulators, Tubing, Quick Connects, Sample Cylinders, Orbital Welding Machines, Pressure Gauges, Snoop Leak Detectors, Lubricants and Sealants, Filters, Medium and High Pressure Products, Gas Distribution Systems, Pre Engineered Sub Systems, Miniature Modular Systems, Grab Sampling Systems, Mechanical Seal Support Systems, Tube Benders, Tube Cutters and other Tube Accessories.
We also support with services such as Swagelok Custom Solutions (Design & Assembly Services) where we can build an assembly based on your requirements, Swagelok Training, Swagelok Onsite Services - Fluid System Evaluation & Advisory Services, Compressed Gas leak detection Survey, Field Engineering, Sampling System Audits, Onsite Services, Hose Advisory Services, Tool Kits and much more.
Contact us for all of your fluid system needs.
Most facilities are losing revenue through increasing maintenance costs and energy consumption due to unknown leakage. We can help you to control Leaks and prevent the safety issues, extra costs and the hassles that leaks cause.
We can build your fluid system assemblies for you. We can make panels, enclosures, sampling systems or small assemblies based on your requirements.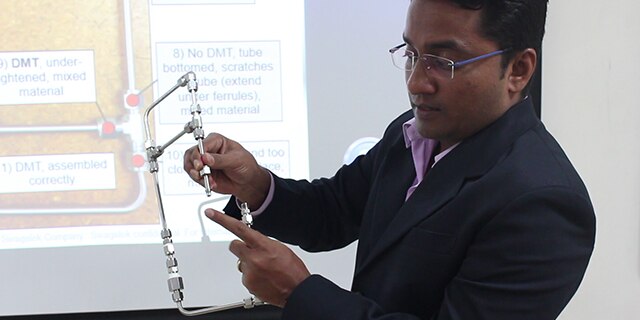 The best way to get full value from Swagelok products is to learn the best way to select and install them. We offer a wide variety of Swagelok training courses - Tube Fitting Safety, Swagelok Essentials Training, Sampling Systems Training and more.
New Products and Solutions
Your Local Swagelok Sales and Service Center
Swagelok Bangalore
#1, Doddanakkundi Industrial Area,
Mahadevapura Post,
Bangalore,
India - 560 048
Service Area
Kerala, Tamil Nadu, Karnataka,
Andhra Pradesh, Telangana,
Uttar Pradesh, Uttarakhand,
Delhi, Haryana, Punjab,
Jammu & Kashmir