Meet Swagelok 83 DXL
The Long lasting 3 way ball valve for your CNG station needs.
CNG dispensers located at filling stations represent a very challenging application requiring high pressures and frequent cycling. These conditions can result in costly premature failure in many 3-way valves. We have used our design experience and knowledge of the application to develop an innovative new valve to provide our customers with a solution in these situations. The 83DXL series valve has vastly improved cycle life performance in "fast fill" CNG dispenser applications and hence reduces the downtime from replacing and rebuilding valves.

Applications
Stainless steel 83 series 3-way ball valves are available for use in a variety of vehicle filling applications, covering pressure ranges up to 6000 psig (413 bar).
Features
Significantly higher cycle life

Working pressures up to 6000 psig (413 bar)

3/8 or 1/2 in. Swagelok® tube fitting or female NPT side ports
Bottom port is 1/4 in. female NPT end connection
316 stainless steel materials
Compact, maximum-flow design
Low operating torque
A directional installation with 90 degree actuation for ease of operation during filling
3-way design with vent port for ease of venting after fill
PEEK seats to reduce maintenance required in high-cycle applications
Trunnion-style ball: prevents ball blowout & contributes to low operating torque
Spring-loaded seats: provide leak-tight integrity & reduce seat wear from pressure surges
Bottom-loaded stem: prevents stem blowout & enhances system safety
Trunnion ball valves for low-temperature service, with temperature rating of -40 to 200°F (-40 to 93°C), are available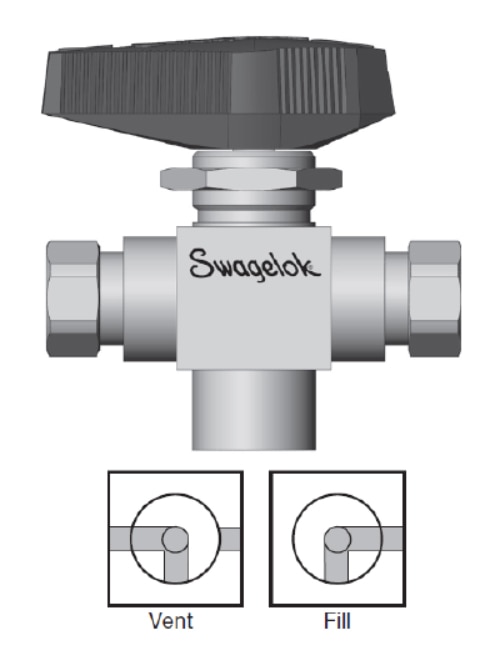 ---
Need more Information or looking for a specific product/service?
Just fill in the below form and we will come back at the earliest